We are delighted to announce that the TLC Scholarship is returning for 2022. Through the Scholarship, TLC offers the selected writer a fully funded place on TLC's popular 12-month Chapter and Verse Premium mentorship programme with a publishing industry editor, working one-on-one to develop their writing and complete their novel. The Scholarship is open to writers from under-served and under-represented communities, with this year's opportunity specifically open to disabled and chronically ill writers. Our 2022 programme follows the inaugural TLC Scholarship, run by The Literary Consultancy in 2020 in partnership with Canongate editor-at-large Ellah P. Wakatama, which was won by the writer Daniel Adediran.
Who can apply?
Applications from disabled and chronically ill writers with works in progress in any genre of adult fiction, written in English, are accepted. Writers with or without a publication history are welcome to apply. Writers must be over 18. There is no upper age limit. Writers may be based anywhere but must be able to attend their scheduled one-to-ones with their UK-based editor. One-to-ones are held online with automated captions, transcript, and non-video options available if needed/preferred.
What does the TLC Scholar get?
The 2022 TLC Scholar will be mentored by published author Chloe Timms over a period of 12 months, under TLC's Chapter and Verse Premium mentoring programme, which includes:
Seven one-to-one sessions with an editor
A full manuscript assessment of the completed book
An industry day with an editor and literary agent
A full suite of TLC mini guides on aspects of writing craft
A TLC Writer's Notebook and rollerball pen
A tree planted in the National Forest in your name
25% off TLC events for 12 months.
The TLC Scholar will additionally receive one year's free access to TLC's Being A Writer programme, an online membership community that focuses on cultivating creativity and building resilience, with online courses, downloadable resources, and 'Creativity Pills', mini creativity boosters curated in partnership with the Poetry Pharmacy. Being A Writer events are hosted online with automated captions and recordings available. Being A Writer podcasts all include transcriptions.
How to apply and submissions window

Submissions open at 9am Monday August 1st 2022 and close at 5pm Wednesday August 31st 2022.
How to apply to the Chapter and Verse Scholarship 2022
Please send the following documents to TLC's Mentoring Co-ordinator Joe Sedgwick at with the subject header 'Chapter and Verse Scholarship'.
Up to 2,000 words from your work in progress
One-page synopsis (Top Tips can be found here)
A short statement outlining why you would benefit from mentorship at this stage of your writing life
A brief outline of any access requirements TLC and/or your mentor may need to be aware of.
We particularly encourage applications from disabled and chronically unwell writers on low income or from minority ethnic backgrounds. We highly recommend applying with a work in progress, not a completed draft, in order to get the most out of the programme. If you would like a confidential chat about your application, or require information in another format, please contact the TLC office directly:
Accessibility
Your Chapter and Verse one-to-ones will be hosted on Zoom. The Mentoring Industry Day is also currently hosted online as we are not currently hosting in-person events. The online Industry Day is held 10am-2pm with a 45-minute lunch break. In person Industry Days run 10am-4pm with a one-hour lunch break. If we were to host an Industry Day in person, we would give you ample warning and would be able to cover any access and accommodation costs in order for you to attend. TLC in-person events are held at wheelchair-accessible venues in London. Carers and support workers are welcome to attend TLC events at no additional cost.
TLC Scholarship Mentor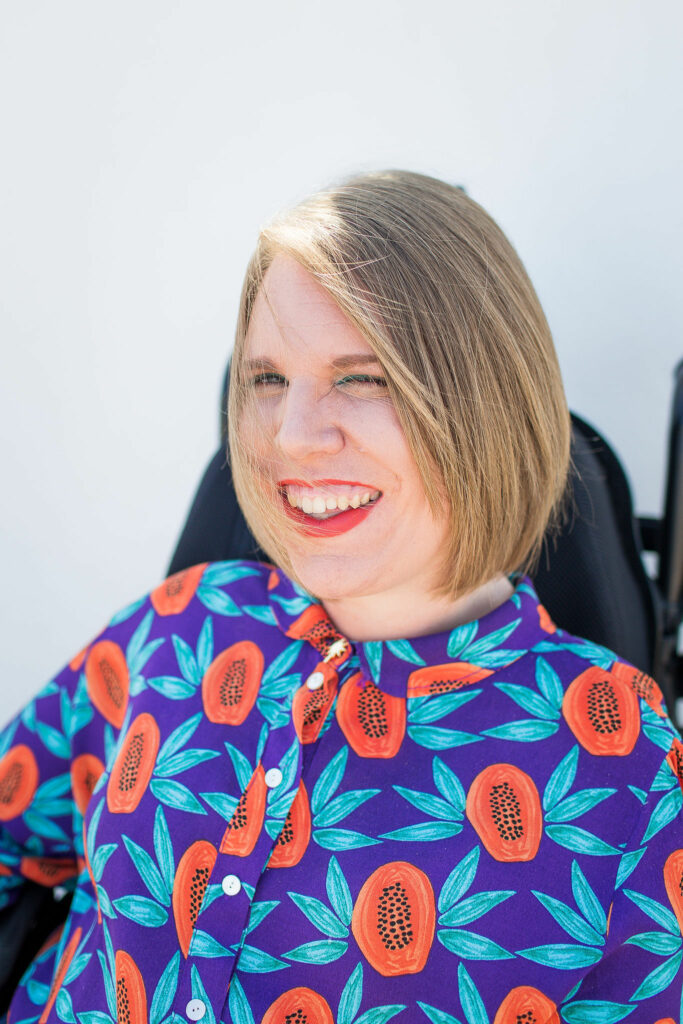 Chloe Timms is a writer from the Kent coast. After a career in teaching, Chloe studied for an MA in Creative Writing at the University of Kent and won a scholarship for the Faber Academy where she completed their six-month novel writing course. Chloe is passionate about disability rights, having been diagnosed with the condition Spinal Muscular Atrophy at 18 months old, and has campaigned on several crucial issues. The Seawomen is her first novel.
Chloe says:
"I'm honoured to be the TLC Scholarship Mentor and can't wait to work with the talented winner. As a former TLC mentee myself, I know how valuable this process was for me, not only for improving my craft but also in building my confidence. I'm excited to see the next TLC Scholarship winner flourish!"
More About the Scholarship
The TLC Scholarship is funded by TLC, and sits alongside five bursaried mentorships already generously provided thanks to TLC's Arts Council England funding, administrated by our literature partners as part of the Free Reads scheme which currently supports over 100 low-income writers across England every year, giving them free access to TLC's professional writing services. Free Read mentorships are currently available via the Creative Future Writing Awards, Wasafiri, Shape Arts, and SABLE Lit Mag, with Free Read assessments offered by an additional 12 literature partners to writers across the whole of England. TLC also offers a quota of free places to all of its literary events to low-income writers as part of its Quality Writing for All Campaign, which has been running since 2015.
Terms and conditions
Applications must be made within the submissions period specified: applications made outside of these dates will be deleted automatically.
Applicants must be aged 18 or over at the time of applying. There is no upper age limit.
The work submitted must be a work in progress and cannot have been previously published or self-published.
The work must be written in the English language and original to the author. Translated and co-written works are not accepted.
Unfortunately for this Scholarship we cannot accept YA, poetry, or children's fiction. Any genre of adult fiction and short story collections are accepted.
Applicants must not be under contract with a publisher or literary agent.
Applicants may be previously published with other work, or never before published.
The winner agrees to commit to completion of the Chapter and Verse programme over a period of approximately 12 months, in adherence with the terms and conditions of the programme which can be found here.
There is no cash alternative.
The decision of the panel is final, and no correspondence will be entered into.
The Literary Consultancy Ltd. reserves the right not to grant a Scholarship should a suitable candidate not be found, and reserves the right to change these terms and conditions without notice.