Copy-editing and Proofreading
In addition to our manuscript assessment service, TLC is able to refer clients on a case-by-case basis for copy-editing and proofreading. We are a Corporate Member of the Chartered Institute of Editing and Proofreading and can put you in touch with experienced freelancers who will be able to work with you directly. If you have a particular project in mind and would like to discuss which service would be best for you, please get in touch with us. Please note that unlike our manuscript assessment services, copy-editing and proofreading jobs need to be booked in advance, so please give an indication of any upcoming deadlines, and please think ahead of these by at least a few weeks where possible.
If you would like your work copy-edited and/or proofread, please send us a sample of the work, a total wordcount, and a brief email detailing the type of work you are submitting, and what you are hoping to do with the manuscript (self-publish, submit to an agent, etc.) along with an idea of timescale; whether you are flexible, and if you have a deadline in mind. Please do also state if you are a non-native English speaker. Please send your email to:
"I just wanted to thank you for recommending Richard for my copy-editing. I had a really great experience working with him. He does his work properly and to a very high standard. He took the time to send me notes, as well as receiving comments and notes from me and working on my Glossary and Index. I am very pleased that you recommended him to me – thank you so much!"

Puran Bhardwaj, author of The Himalayan Bond
Copy-editing
A copy-editor will cover basic errors in spelling, punctuation and grammar and look overall at improving the quality of the text. They will look at the overall consistency of the book, watching out for weak areas of writing, and make corrections where necessary. Copy-editing can involve some basic rewriting or highlighting of areas of text that an author needs to look at again. They might also check facts and point out material that could be considered libellous.
Do I need copy-editing?
Some of our clients come back to us once they have had their manuscript assessed, and ask for a copy-edit and/or a proofread to make sure the manuscript is in the best possible shape ahead of submission to literary agents. Alternatively, writers who intend to self-publish will not have the editorial team of a publishing house to copy-edit and proofread their work for them. If you are an independent author, you may want to consider one or both of these services ahead of going to print with your book. We can recommend copy-editors who work regularly with independent (self-publishing) authors, and TLC is a Partner Member of the Alliance of Independent Authors. If you are more interested in self-publishing strategy, we may also be able to recommend a good course to enrol on, book to read, or consultant to work with you on your self-publishing project. If you are publishing independently, it's important to have a strategy worked out for your book well ahead of pressing the publish button, and more often than not, this will include professional copy-editing.
You might also be interested in a copy-edit if, for example, you are submitting a short section of writing to a competition. If you're unsure if you need a copy-edit, please ask us.
Cost
Your copy-editor will give you a project fee in advance, along with a project outline, so you know exactly what will be done, and by when. Fees will vary according to how much work is needed, but prices tend roughly to work out at between £30 and £60 an hour.
"TLC put me in touch with a professional copy-editor and her help was invaluable. She picked up on so many tiny errors (and quite a few large ones!) that I just couldn't see any more. She made valuable suggestions regarding punctuation, grammar and layout, or where something wasn't totally clear to the reader. It's obvious to me now that when you've worked on your manuscript for several years, it becomes impossible to edit your own work. Catherine went through it with a fine-tooth comb, and the end result was a submission package that I could be totally confident about."

Rhiannon Lewis, author of My Beautiful Imperial
Proofreading
A proofreader will read a text correcting basic errors in spelling, punctuation and grammar. They will also look for consistency in such areas as formatting, capitalisation, italicisation, hyphenation and so on.
Do I need proofreading?
If you are looking to submit your work to a literary agent, we would recommend our manuscript assessment service as a first step. You are extremely unlikely to need proofreading at the drafting stage of writing your manuscript – a common misconception is that proofreading is a necessary step before submission. Actually, it is the vital final step before a work goes to print, carried out on the 'proof' copy, i.e., the typeset work. Hence, the word proofreading. You are more likely to benefit from a thorough copy-edit once you have thoroughly edited the work. If you are self-publishing, we recommend a copy-edit and proofread to ensure that your ebook or print copy is as error-free and professional as possible.
Cost
Your proofreader will give you a project fee in advance, along with a project outline, so you know exactly what will be done, and by when. Fees will vary according to how much work is needed, but prices tend roughly to work out at between £30 and £60 an hour.
Which Edit Do I Need? Use Our Quick Check Tool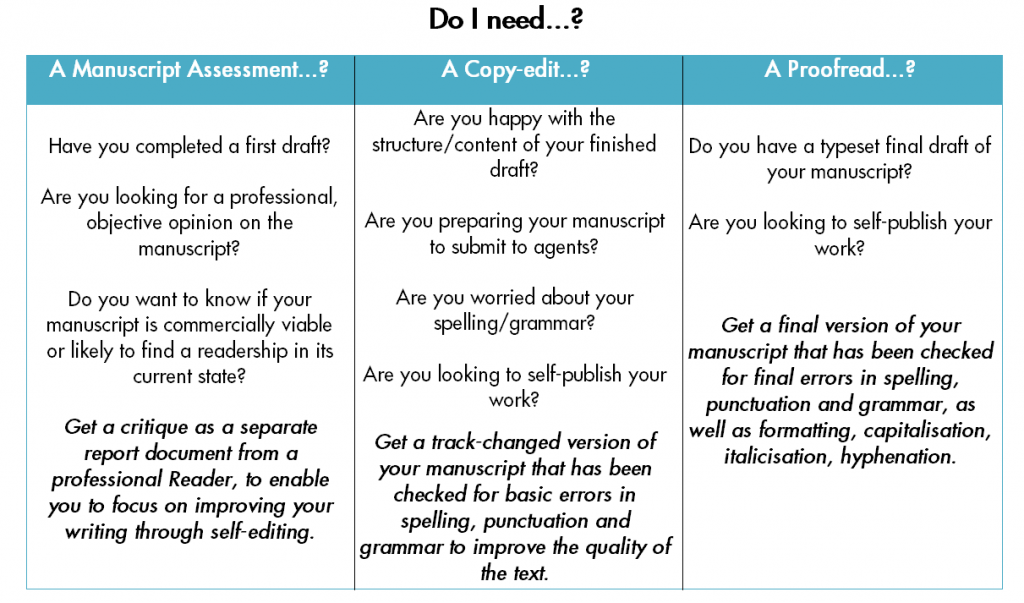 Book your copy-edit or proofread
Other publishing services
Since we started in 1996, we have continued to work with talented freelancers whose work we trust in various fields. We can refer you onwards for:
Book production
Cover design
Typesetting and formatting
Uploading and conversion
Self-publishing
Ghostwriting
Marketing and branding
Publicity

Enquire about these services
N.b. In accordance with the normal practice of The Literary Consultancy (TLC), all referrals to external services are made in good faith and in confidence, without legal liability on behalf of TLC. Clients and freelancers are responsible for agreeing terms of service including payment, timeline and delivery for all external referrals. Payment is made directly to the referee and not to TLC for these services. In some cases, TLC may take a small finders' fee.
TLC Training
Ethical Editing is our one-day workshop for in house editorial teams in publishing. It uniquely combines practical change modelling with editorial theory, which are explored through a series of discussions and exercises. The training draws on the academic research and practice of Dr Kavita Bhanot, who has worked with TLCas an editorfor over a decade and is the author of the forthcoming book Literature Must Fall (Pluto Press, 2023). It also draws on co-facilitator Aki Schilz's theory of change training and Bookseller-recognised work looking at how to build inclusive culture within the industry.