On the evening of 25th November 2021, The Literary Consultancy invited friends, writers, and performers to Fora Space in the heart of Spitalfields, London, to celebrate a quarter of a century of supporting writers. The event was also livestreamed and captioned, in full, and you can watch the full video at the bottom of this page. The evening began with a rousing speech by TLC Director Aki Schilz, reflecting on 25 years of working with writers and praising the vision of TLC's Founders Rebecca Swift and Hannah Griffiths, who set out to answer the question, 'Why should only those with a guarantee of publication get detailed feedback on their writing?' in 1996. Aki encouraged the captive crowd to 'champion writers, help them grow, and take them seriously, no matter what the 'outcome' may be'. You can read the full speech online here.
After her introduction, Aki introduced a short film called 'Why I Write', featuring Ashley Hickson-Lovence (who was in attendance). Commissioned by TLC as part of a series of films produced by Story Machine, the four short films feature four of our most exciting writers: Ashley Hickson-Lovence, Hanif Kureishi, Elle McNicoll, and Kit de Waal. You can watch Ashley's fantastic film below, or watch all of the commmissioned films here.
Before a short break to top up their wine glasses, the crowd was treated to an incredible Dancing with Words performance by the poet Lydia Allison and the dancer Akeim Toussaint, produced by Books up North. It was one of the highlights of the evening, and, along with Ashley's video, was all anyone was talking about during the break. When the crowd settled back into their seats, they were treated again, this time to a live podcast recording of the popular 'What Editors Want' podcast hosted by Philip Connor in conversation with Ebury commissioning editor and founder of the Black Agents and Editors' Group, Marianne Tatepo. Marianne talked the crowd through her career, and what she looks for in her commissioning. She talked through what she feels is the magic ingredient for a bestseller, and discussed with Philip the importance for there to be more representation for Black and Asian editors in publishing, so that readers have better access to a wider range of talent. Marianne and Philip's conversation was captured beautifully in a live illustration, by Katie Chappell who was documenting the evening.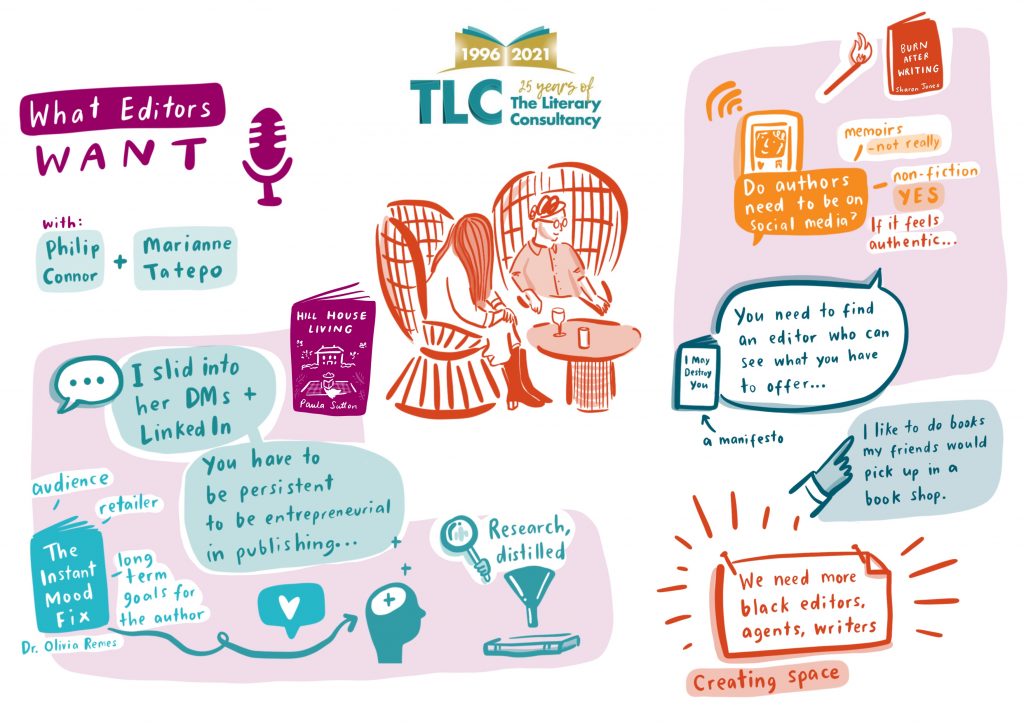 The evening concluded with a huge thank you from TLC Director Aki Schilz, and round of applause, before a rousing chorus of Happy Birthday to celebrate a quarter of a century of The Literary Consultancy!
You can watch the full livestream of the evening back below. Enjoy!