Write-up by My Ly
As the warm Saturday sunshine shone on the Free Word Centre, delegates flocked inside to grab a drink and secured their seat for The Literary Consultancy's third Writers' Day conference. The auditorium filled up rapidly, and there was a buzzy atmosphere from the very start.
The event kicked off with an introduction to the day's agenda by the hugely inspiring and passionate TLC Director, Aki Schilz, along with a shout out to her trusty right-hand man and Editorial Services Officer, Joe Sedgwick. It was mentioned this year might be the last Writers' Day, which was met with cries of disappointment from the audience and would later provide food for thought for Aki. She informed the audience they could buy a range of books from the book table thanks to Big Green Bookshop and introduced the first speaker onto the stage. Strategically focused and marketing savvy, Angela Clarke, a Sunday Times bestselling author of the Social Media Murder series (Follow Me, Watch Me and Trust Me), who is a long-standing reader for TLC and a self-confessed addict of social media kick-started the morning with a jam-packed session titled 'Building an 'Author Platform: Let's Get Visible'. Angela's latest two book deal went to auction and all the publishers who bid agreed they loved the fact that she offered the full package; that she doesn't just have the books and the ideas for her novels but that she also has a great platform in the industry, and has engaged and built up her audience and readership.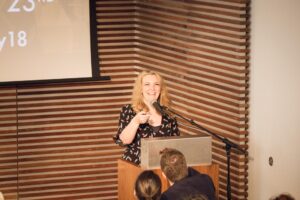 Angela started her session by asking writers to all stop thinking as a writer and said "Your book is no longer your baby, for the next hour think of your book as a product," because that is how everyone else in the publishing industry will see it. She explained your book has to be sold in by various people including the editor who will see it as something they have to sell it to their internal acquisitions team, the sales team will see it as something they have to sell it into booksellers and stockists, the marketing department will see it as something they have to sell it to reviewers and press, booksellers will see it as something they have to sell it to shoppers and finally readers hopefully will just be sold and will buy your novel. Highlighting the fact that there are six thousand new books being published every week in the UK, writers are not only competing with this but they are also competing with all the other distractions such as Netflix, festivals and social media. People's time is being constantly bombarded at all stages with so many different things and this fierce competition for attention means authors need to try and find, cultivate and flog to their own audience. She also made the point that the most important thing is your writing and that writers need to protect their writing time at all times and see this as "keeping your eye on your ROI." Without your writing you do not have anything to make visible.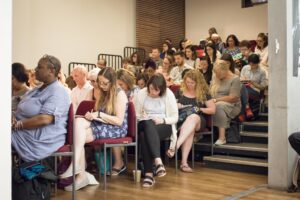 Angela encouraged writers to network either online or in person to build up your own network and friends who can then be a massive source of industry help, for example, they can be a sounding board for when you might need to generate a book title, when you are trying to figure out plot lines or for them to have the opportunity to read an advance copy of your novel and provide you with a quote for the front cover of your new book. Your network can tell their followers about your novel and put you forward for blogs and interviews to raise your visibility. Using the old marketing adage 'The Rule of Seven' here, she explained it could take at least seven times for the same marketing message to be communicated to someone before they buy from you. A light bulb moment came to Angela when Mark Edwards, the international Kindle chart topper, said to her "People buy a book, not an author." so staying visible in readers' minds is key. By doing this, it means that you can remind previous readers that they liked the last book you wrote and that they might like this new book you've written. Angela revealed as a crime writer, she has built up her own network of former cops, prison officers and lawyers that she can tap into when she needs to do research for her novels. She identified that agents and publishers are looking for writers who are committed to their career as an author and willing to take responsibility in promoting their own book.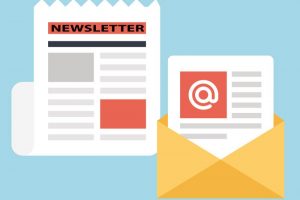 And if from all the things that Angela had spoken about today the audience only took away one thing away, she urged this to be for writers to set up their own email newsletter. Angela pointed out that as a writer, you don't know who buys your books. For example, you have no way of identifying what the demographics of your buyers are and what other books they buy however Amazon is privy to all of this information and they can email a customer to promote an up-coming book quickly and easily. If you were to start your own email newsletter, then you would also be able to do this, collect valuable marketing intelligence and raise your visibility.
What about social media? Angela believes that you don't have to be on social media but it makes things a lot easier. Do you have to be on all social media platforms? No, you don't. It is much better to do well on one platform and not to spend yourself too thinly across multiple platforms. Use the platform that works best for you and also remember to be a person, not a salesperson, on social media. Hammering home the same message to your followers to 'buy my book' does not work and never send a direct message to a follower to ask them to buy your book. Angela recommended keeping an eye on the latest features being promoted by a social media channel and for writers to piggyback on their algorithms. Angela shared that she tweets at 7.30am, 1.30pm and 5.30pm on weekdays, as this is when the most traffic delivers for her. She encouraged writers to use social media to follow and engage with like-minded people such as writers, agents and publishers, to be (a decent version of) yourself on social media and to share other people's stuff because the network that you have built up can also do the same for you.
Angela also revealed that she has an invisible disability and suffers from chronic fatigue and pain, which means she has to be extremely clever with her time (also reminding writers to protect their writing space as a priority). She revealed she uses Hootsuite to pre-schedule her posts and she also records a bunch of videos all at the same time for her podcast and blog that would then be drip-fed over a longer period of time. Angela builds in doing social media into her daily routine for about ten or fifteen minutes in the evening every day. It was clear to see that Angela is a true expert in building and engaging her readers and readership.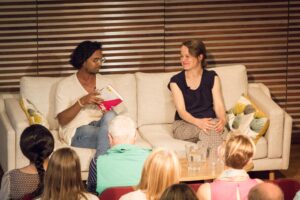 The second session followed an informal chat-show style talk on the sofa between Guy Gunaratne, the debut author of the brilliant In Our Mad And Furious City (Guy previously worked as a designer, documentary filmmaker and a video journalist) and Mary-Anne Harrington, his editor at Tinder Press (who has worked in publishing for twenty years and her author list includes Maggie O'Farrell, Eowyn Ivey, Helen Walsh, and Lesley Nneka Arimah), as they discussed the subject of 'Negotiating Relationships: From Draft to Bookshelf'. It was clear from the start that the audience would witness a very special relationship they both had. Guy kicked off the session with a beautiful reading. Focused on the lives of five entwining characters, his novel is based around a gritty housing estate in Neasden, West London (where Guy grew up). Having written questions for each other beforehand, Guy and Mary-Anne each picked out a question at random as the audience listened to an intimate, insightful and honest exchange. During their chat, Mary-Anne revealed that she took on Guy's book because she loved it and she had a very clear sense of how she wanted to publish it and had a supportive team who felt the same way – however even if you feel strongly about the potential of a novel, there are never any guarantees in publishing and everyone is working towards an unknown adventure. For writers that are successful, the journey of draft to bookshelf can take eighteen months to two years and can be an overwhelming and nerve-racking process, especially for debut authors, and therefore trust is the key bedrock behind the relationship of a writer and their editor. An editor's job and a publisher's job is to take on the worrying of everything else and free up the writer so they can just focus on writing. A writer only gets to publish their debut novel once and so you want to do everything you can to polish the novel to its highest standard and give it your very best shot. She mentioned that discovering debut authors is such a joyful thing for her and touched on how Guy has invested the time in building up his author platform. Guy admitted that he had his eye on a completely different career path saying "I was going to be a film maker" but he was always writing in the background, and luckily for us, he continued with writing to produce a stunning debut of 2017 with a most unique voice.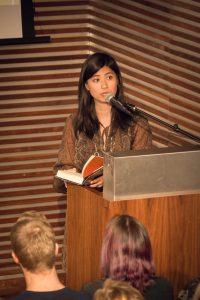 Following a buffet lunch that allowed writers to network, satisfy their hunger and stretch out their legs, Aki was delighted to introduce special guest, Winnie M Li, the debut author of Dark Chapter who read an intriguing extract. Winnie's novel won the Guardian Not The Booker Prize 2017, was nominated for an Edgar Award, was shortlisted for the Best First Novel Award and was runner-up in the SI Leeds Literary Prize 2016 and the CWA Debut Dagger. Since the age of six, Winnie had always wanted to become a writer but she didn't know how to pursue this professionally and carved out a career path in becoming a film producer instead. It was not until she signed up for an Arvon Foundation writing course in 2006 where her course tutor encouraged Winnie to keep on writing did she seriously consider writing a novel. She then joined Spread The Word's email newsletter and heard about TLC Free Reads, a scheme designed for low-income writers to receive free feedback from a professional editor. Winnie submitted the book that she was working on and received really positive encouragement and it was also the first time that someone mentioned that her book was a crime novel – something that Winnie had never thought about. Incredibly, Winnie wrote the novel only a few weeks after her own sexual assault with a desire to explore the viewpoints of both the rape victim and the perpetrator and how their lives are affected after the incident. She highlighted the fact that finding your voice as a writer and believing it enough to write your own manuscript is hugely important. Winnie's experience of walking through the park in 2008 was when her life fundamentally shifted and from an extremely dark place, a powerful and moving crime novel was born from a hugely brave and inspiring writer.


Next up was the eagerly awaited and nerve-wracking live pitch of this year's five shortlisted authors for the TLC's Pen Factor Writing Competition with one winner taking home a package worth over £1,500. Sponsors this year included Spread the Word, Royal Society of Literature, Urban Writers Retreat, Head and Heart, CreateThinkDo, and Headline. A round of applause was given to everyone who had entered and the list of names of those who had made the longlist was read out.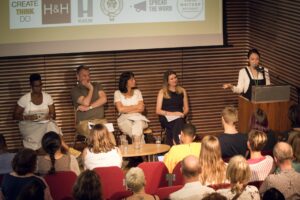 With a fully supportive audience, each author took to the stage and pitched in front of the four (friendly) judges, each one a well-respected publishing industry expert in their own right; Sharmaine Lovegrove, Publisher at Dialogue Books, Robert Caskie, co-Director at Caskie Mushens, Niki Chang, literary agent at The Good Literary Agency, and Zoë King, literary agent at AM Heath.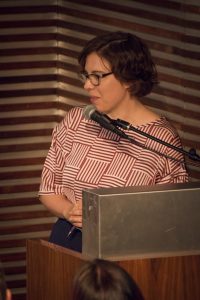 First up to the stage was Sonia Lambert, a teacher of creative writing who read an extract from her novel currently titled While You Were In England. Inspired by Sonia's grandmother who came to England in 1938, her novel is set at the beginning of the Second World War focused around Jewish refugees coming to the UK and trying to build a new life in a foreign country. At the heart of it is a love story and this extract focused on a mother being separated from her baby and then sent to Holloway prison. Sharmaine kicked off the feedback by saying this was a fascinating account of this hostile environment and to see it from a different perspective was very original. Robert felt it was slightly rushed to bring the characters into a room so quickly in this scene when, especially for historical fiction, it is important to invest in the scene more, such as bringing out the sights, the smells, the sounds and the people within the setting. He also pointed out that if you planned to include a prologue into your novel, then you have to have a really serious reason for why you have a prologue and wondered how much of Sonia's male refugee who finds the gold coins would actually be part of her novel? All judges agreed it was an interesting and intriguing opening.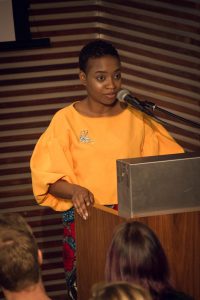 Abi Dare was up next as she read an extract from The Girl With The Louding Voice. Her novel was longlisted for The Bath Novel Award this year and is set in Nigeria, focused on a girl aged fourteen who is forced into an arranged marriage when all she wants is to go to school – and escape takes her on a journey that leads to a death. Zoë thought it was brilliant, really funny and liked the voice of her protagonist. Robert thought the protagonist was a very strong person and felt Abi's writing was incredibly strong. Sharmaine liked the detail of the language and how descriptive it was in terms of the sense of the community and the relationships. She also thought that you could feel the secrets and lies as well as the sense of Nigeria and the culture coming through from this extract. All the judges enjoyed Abi's witty prose, applauding her for developing an extremely strong character and requesting for more of the setting of the world to come through.
Kirsty Capes took to the stage to read her extract from The Hatchling and gave the pitch 'What would you do if you were fifteen and pregnant?' Heavily based on Kirsty's own experiences of growing up in the care system, the novel is set in 1999 and deals with controversial issues faced by teenage girls today as the story follows two young females and their struggle with issues of identity, motherhood, sexual politics and class. Niki thought it was hard hitting, intense and gritty, it was very evocative and she wondered if there was a redemptive thread running through? Zoë loved Kirsty's writing, it was very compelling and she wanted to read more, she also thought that the sense of the protagonist feeling 'I'm trapped' and I'm panicking' came through extremely well. The judges felt it was a very ambitious extract with a lot on the first page and agreed that the voice was a sophisticated one, recommending Kirsty to think about this novel for the adult market instead of the YA market.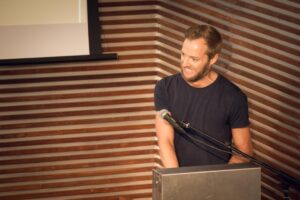 Adam Sharp followed next, and read an extract from his memoir Daddy Was A Punk Rocker – a true story focused on how music shaped his relationship with his father, how his father used his music to save him when his mum wanted him dead, how his father then used music to justify running away when he was a toddler, how he used music to punish his father in his teens and just before his father's death, how their music brought them together again. As the last line of his extract ended on "And the fifth drawer, the fifth drawer is for the shotgun" a hushed gasp fell amongst the audience. Sharmaine wanted to read more and thought this extract was extremely layered. She also mentioned she had just recently bought a book called Rainbow Milk that initially was submitted as a memoir but was then turned into fiction and felt Adam's novel struck the same chord. Robert thought Adam's descriptions were almost forensic like a true crime scene and fabulously evocative. He pointed out that Adam has a great situation and set of characters here and suggested he could be more ambitious with his structure. All the judges and audience were in agreement, this unique and amazing story should be fiction, not a memoir and also if music is used to save the characters in the story, then there was not enough of it currently running through the book.
Jay Gee was the last writer to take to the stage, understandably nervous because this was the first time they had read out their work but with full support from the audience, Jay delivered a strong reading to rival any confident speaker. Jay's novel is titled Scrounger And The Amber Edge, it is a young adult crime novel about a teenage boy nicknamed 'Scrounger' who finds a school friend's body in the canal. Set on a council estate in Yorkshire (being the world that Jay knows), they wanted to write in the way that they actually talk and think (working class Yorkshire dialect) and they were chosen for Penguin's 'WriteNow' scheme. Sharmaine applauded Jay for their marvelous voice, she thought the extract had really brilliant and evocative descriptions in and wanted to read more. Robert thought the voice was incredible and could see this working as a TV drama. All the judges agreed the protagonist had an extremely strong and very assured voice and wanted to know where the story goes. Will the focus be on solving the crime or is the focus more on self-discovery and the development of the main character?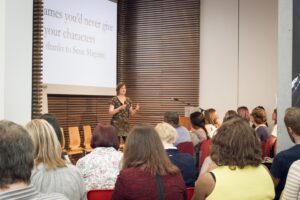 After a short break, the final session was taken by Shelley Harris, bestselling author of Jubilee and Vigilante (more importantly a lover of salted caramel and knows the words to every pop song released between 1978 and 1985) who led an interesting and creative workshop titled 'Who Dares Wins: Take Risks and Supercharge Your Writing'. Shelley took the audience through different risk-taking exercises designed to enrich your writing, help with problem solving or tackle a situation when you're really stuck or when your confidence is low. Everything that Shelley would ask the audience to do would take writers out of their comfort zone. She urged writers to take a risk and "do as your character does" speaking of her own experience where she embodied the character in her novel and dressed up as a superhero to walk the streets of High Wycombe trying to do good deeds. It was unfortunate that when she tried to help a mother who needed to make a phone call and asked Shelley to look after her child sitting in a pushchair that the child burst into tears at the first sight of Shelley's costume!
Shelley encouraged the audience to "Tell the actual truth about what it feels like to be a human being because that's the only thing we ever write about." She used the worst Tinder date to illustrate how she felt this story contains the most human truth than in some novels – reminding the audience of a news article last year about an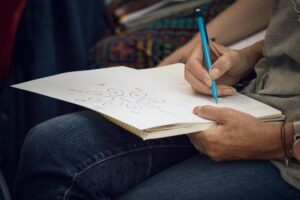 unfortunate woman from Bristol who went back to the house of the guy that she had just had a Tinder date with and became stuck upside down in the air gap between his bathroom windows, she eventually had to be rescued by the fire brigade in her extremely compromising position. Shelley asked the audience to think about "What would you write today if you couldn't fail?". As writers, we are blocked too often and can't always see a way out to progress forward. To remedy this, Shelly recommend the 'Pixar Rules', a list of twenty-two rules of storytelling that were tweeted in 2012 and highlighted rule number nine for when you are really stuck; 'Make a list of what WOULDN'T happen next and often you'll find that the material to get you unstuck will show up.'. She also endorsed the idea that your first draft should be called 'The F*** It' draft so that writers just get on and write it, essentially it is what is says on the tin and your first draft shouldn't create a blockage unnecessarily.
As the event drew to a close, Aki gave a huge thanks to all sponsors, speakers and attendees. With the hugely positive vibes felt throughout the day, she announced "Maybe we will run this event again …" much to the delight of the audience. Aki then received a 'hot off the press' text message from the deliberating judges from the nearby pub where they had discussed (and argued over) this year's winner for the TLC Pen Factor award. With tense anticipation and a drum roll, Aki revealed the winning name. Huge congratulations went to the TLC Pen Factor winner, Adam Sharp. Having met Adam on the day, I would like to wish him all the best in enjoying his bumper prize package and look forward to seeing how his journey with this particular writing project unfolds along with reading his contribution in the upcoming Kit de Waal's anthology titled Common People: An Anthology of Working Class Writers.
Aki left the audience with one important closing message "Please keep buying books and supporting all writers, especially debut authors." After an extremely informative, thought-provoking and creative one-day conference that was bursting at the seams with useful writing advice and tips, those writers who did not need to rush off went on to a nearby pub to network and to find out more about each other's writing projects – something I'm sure would have made Angela Clarke extremely proud.
About the Writer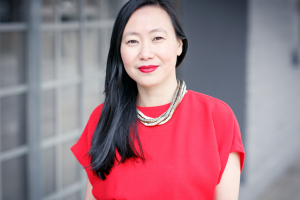 My Ly is a writer and a creative and passionate Marketeer, currently living in London. When she can fit it in, she is also a TV/film extra, a jewellery designer and an imaginative cook. She was selected for the Curtis Brown Creative three-month novel writing course in 2015 and also The Writer's Hotel, a one week jam-packed New York writing conference in 2017 where she pitched her novel idea to ten US literary agents and read out her first chapter to the open public in a New York speakeasy bar. As a regular networker at literary events, writing groups and writing retreats she enjoys learning, meeting fellow writers and publishing experts as well as helping to connect people together. She is currently working on her debut novel.