Since 2001, TLC has received ongoing core funding from Arts Council England which has enabled the provision of bursaried manuscript assessments for talented writers on low income. The scheme is known as 'The Free Read Scheme' and offers access to TLC's core services to writers who under normal circumstances might not be able to afford them. As we prepare to launch the Free Reads Scheme once again for the 2018-22 period, after renewed funding from Arts Council England, 2017-18 Free Read recipient Saskia A tells her story of how the scheme helped her, and discusses the importance of creative funding for low-income writers trying to find time and space to write. You can find out more about what the TLC Free Reads Scheme offers and how to apply here.
Like so many writers, I made the long leap from talking about writing a novel to actually putting pen to paper. It was a lot harder than I had originally anticipated. It's so easy to second-guess yourself during the writing process and obsess over that one line that prevents you from finishing off a chapter. However, despite all the obstacles thrown my way, I achieved the impossible.
What I was left with was the first draft of my novel, Angel Faced, a psychological thriller. My ultimate goal from the beginning has always been to secure commercial publication but even I knew from the start that my finished manuscript needed work before I could even contemplate approaching literary agents.

Fortunately having been in contact with Arts Council England whilst I was writing the first draft I knew exactly which organisation to approach for a manuscript assessment. I was fortunate that I was awarded a bursary to be considered for the TLC's Free Reads Scheme, a program that offers editorial reports to writers on a low income, otherwise I never would have been able to benefit from this service.
I still remember the excitement and apprehension I felt in February when TLC informed me that a reader had been assigned to my manuscript. During those four weeks I waited nervously for the reader to get back to me with her comments with my thoughts ranging from 'what if my writing was deemed not good enough?' to the whole experience being marred by a difference in opinion as to what makes a good novel.
I still remember the excitement and apprehension I felt in February when TLC informed me that a reader had been assigned to my manuscript.
When I finally did receive the report there were quite a few negatives, that at first I found a little hard to accept. I suppose it's always difficult to accept criticism head on. Instead of dismissing the report and assuming that I know best, I chose to reread it a number of times throughout that first week and jot down the pros and cons of what the reader had to say in my journal. Despite the negatives, there were a lot of positive comments made such as my work being 'commercially viable' that I definitely had no complaints about at the time. However, I know now that if I want to take my novel to the next stage I need to build up more suspense, which is a must for any psychological thriller, and make the motivations of each character more transparent.
I suppose the most important question I should be asking myself is had I not been awarded a bursary and been given a Free Read, would this service have been worth it? In short, the answer has to be yes.
Don't get me wrong, I didn't agree with every single comment the reader made. As a fan of novels such as Dark Places and Sometimes I Lie I don't think characters have to necessarily be all-out likeable for a novel to work, merely compelling. I'm also not a fan of novels that stick to the formulae of a given genre. I would much rather push the boundaries.
However, what this report has helped me with, is to focus more on the market that my novel is geared towards, which seems a bit out of keeping with writing in general, what with it being a form of creative expression. However, having attended a few publishing workshops I know that one of the first questions a publisher asks themselves is 'who will buy this novel?'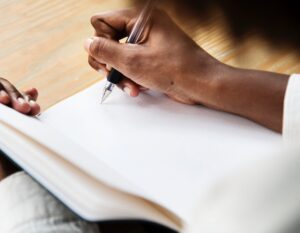 Another lesson I've taken away from this experience is determination and self-belief. It's easier to write the first draft than it is the second. To realise that you'll need to revise practically half of your work can be discouraging to anyone, and if you're someone who isn't that passionate about writing, it will soon show.
Initially I was a bit put out once I realised just how much work I'll have to do, but having taken quite a few of the comments on board I'm really enjoying the rewrite and hopeful that one day I'll see my manuscript in print.
TLC has been instrumental in helping me to develop as a writer and also seize upon opportunities to bring me closer to my goal of commercial publication.
It's also important to possess self-belief. You may receive comments telling you: 'that's not how a character should behave' or even 'you'd do better to follow a certain plot strand', but if those suggestions don't fit in with how you envisioned your novel to look like it is probably best to go with your gut instinct. There are so many successful novels out there that revel in not being part of the mainstream. Fight Club and Trainspotting to name but a few.
Following the report, I successfully applied for a 'Time to Write' grant from the Arts Council. This was helped in no small way by the comments made by my TLC reader in relation to the strengths and weaknesses of my work. I've not just used this experience to help guide me to producing a more polished version of my novel I've also been able to take the next step and devote myself solely to writing for the next four months with the assistance of the Arts Council.
TLC has been instrumental in helping me to develop as a writer and also seize upon opportunities to bring me closer to my goal of commercial publication. For any writer wanting genuine, unfiltered advice on their novel TLC is your best point of call.
TLC's Arts Council-funded Free Reads Scheme is open to low-income writers resident in England, and prioritises those from marginalised backgrounds (BAME, disabled, LGBTQ and other under-represented groups). You can find out more about how to apply for the scheme here.
Arts Council England offers grants for writers, with submission windows opening regularly. They recently launched 'Developing your Creative Practice' which is their new development fund designed to support independent creatives.