The above is a thorny question. If you ask it amongst writers they tend to get twitchy. Some might wonder if it matters anyway? It matters to me, as a playwright, to see the craft of playwriting treated with as much respect as other forms of writing. Plus my day job, Communications Manager for the Royal Society of Literature (RSL), means I encounter such questions more regularly than I might otherwise. In a recent Ipsos MORI commissioned poll the RSL sought public attitudes to literature allowing respondents to define it for themselves. The OED defines literature as 'written works, especially those considered of superior or lasting artistic merit' and plays are simply defined as a 'dramatic work for stage or broadcast'.
The etymology of literature is from Latin littera or letters and the etymology of plays relate to movement. There seems therefore a clear distinction, if taken literally, between literature and plays – especially if you consider the word 'playwright' which is similar to that of other trade craft professionals – think shipwright or wheelwright – the idea being that plays are crafted rather than simply written. This is true up to a point. Unless you work as a devisor or rely heavily on improve to create work (and of course a number of theatre makers do) you will as a playwright have to first and foremost write. You are likely to be fascinated, perhaps even obsessed, with language, speech, dialect, rhythm and tone. Pen, keyboard, whatever, the words need to be on a page so that actors and directors can interpret them. Is it enough then that the words can appear on a page – does this alone make a play literature?
The etymology of literature is from Latin littera or letters and the etymology of plays relate to movement.
The script is only the starting point; a play takes on a new lease of life when it is 'on its feet' – words suddenly take on a new meaning with directorial input and actor intonation. Is the script then just a general idea of what might occur in performance? Do playwrights pay no attention in a rehearsal room to their work once it leaps off the page? None that I know I must say. It's frowned on to be too precious but there's certainly an expectation that playwrights will want to see their work nurtured and respected in the collaborative process. I often find I learn more about my characters from discussions with actors and directors. Once rethought a character's whole motivation and journey based on how an actor said one word in the script. A playwright tutor once said that a script could suffer from being 'too ready', too polished and that there needs to be room for a director to do something with it. Which suggests that the script is merely a guide and that the process is not finished until it is 'up'. In a 2010 article for the Guardian David Jays argues that 'it's theatre's brazenly collaborative and transient nature that spooks the literary gatekeepers' because we think of a literary experience as 'essentially solitary: a lone reader's silent encounter with a momentous text' but, he adds, 'surely literature isn't – or isn't just – about contemplation, let alone meditation. It's also about engagement.
The script is only the starting point
All this might seem far removed from the literary canon. The RSL has around 500 Fellows – these are writers, elected by the RSL Council and Vice Presidents, whose work is considered to be of exceptional literary merit and includes the very best writers in the UK today. All forms are represented: novelists, poets, biographers, screenwriters, librettists to name a few. Plus 18 playwright Fellows (there are others who also write for theatre but whose primary form isn't this). Playwrights (and other writers) elect playwrights. It is an honour. The letters FRSL go after your name; you are a Fellow of the Royal Society of Literature. Your work is considered by your peers to be literature. Since it was first awarded in 1901, 6 writer have been awarded the Nobel Prize in Literature primarily for writing drama  (many more as one of many forms they write).
It is not merely the dialogue that a playwright writes, they also set the scene. Samuel Beckett wrote into his Will that his scripts had to be performed as written – with no modifications. (If it says four paces you take four paces!) His plays have to be shown as he intended. In reading Beckett you feel his lyricism and poetry; in seeing plays such Rockaby or Not I you gain the immense other worldliness that you cannot get from the page. Yet the power of the words holds both on and off the page. Beckett's style is recognisable. As is Tennessee William's sweaty, suggestive moods. It is worth noting how vast stage directions used to be and how these days we are encouraged in courses on writing for the stage to be minimalist – to allow the director/dramaturge/designer some room. I love reading Tennessee Williams; he painted a clear picture of the world he wanted you to see be it on stage or in your mind. This, for me, is true when reading Shelagh Delaney, Nell Dunn and Debbie Tucker Green.
Samuel Beckett wrote into his Will that his scripts had to be performed as written – with no modifications. (If it says four paces you take four paces!) His plays have to be shown as he intended.
Does literature only exist on the page? Plays are not novels. You do not discuss them at book groups. No one reads a play. Not so! I ran a play book group for such a purpose in 2016 (admittedly for playwrights). The fastest-selling book of the decade to date is the script of Harry Potter and the Cursed Child by Jack Thorne (based on an original story by J. K. Rowling). Granted there is the argument that some didn't realise they were buying a playtext but even so the point it they did. Plays can be read.
However, I do not one dispute that plays are meant to be seen. When I was at school in the mid nineties to late nineties my school taught Drama as improvisation – play texts were only discussed in English Literature. My A Level English teachers were sensible enough to take us to see all three plays we studied: King Lear (RSC at the Barbican), Hamlet (at the Globe) and A Doll's House (fringe theatre in Islington) which helped us to understand the text as drama. Yet do we believe that a poem once read aloud is no longer literature? No, we don't.
To take the idea of script reading one step further I must mention the strange anomaly at new writing theatres. The place that receives play submissions. The literary department. This and the need for a Literary Manager in all such establishments makes me chuckle. Your work has to stand up on the page – it must read well first and foremost before the theatre will work with you. The readers are meeting you through your words on a page. The same can be said of playwriting prizes – you are being judged on your ability to write a good script.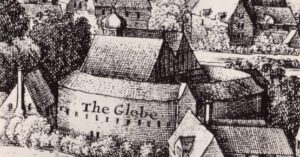 If playwrights should to shuffle away from the literature world there's one problem – begins with S ends with multiple deaths or being chased by a bear. Arguably the greatest writer this country ever produced is a playwright. When asked to 'name a writer living or from the past whose work you consider to be literature' (in the RSL's Ipsos MORI poll) old Shakes came top. Not entirely surprising but it is always worth underlining again that it is a playwright who everyone lauds. A play needs to be performed before it can really be said to be theatre, but when it is can this performance not in itself be literature and add to and develop and push forward the literary canon? I suppose through all of this I'm not asking just whether plays are literature I'm asking what literature itself is. That's a whole separate blog. What are the boundaries – should there be any? And without clear scope are we in danger of losing the point of the artform entirely? Jays (from his Guardian article) believes that 'literature is one way in which we discover what it is to be human' and that plays 'remind us that literature is warm, mutable and human'.
To collect together the best writers and writing under the (hotly debated) canon of literature is a joyous thing in my opinion. As long as there is access to this work and it isn't siphoned off of priced too high it is glorious. As long as those making the work are able to create the work they want, free from theatrical or literary assumptions long may plays be literature.