TLC Showcase Introduction
Back in 2009, Staple Magazine launched our double Publishing Issue, featuring almost 300 pages of poetry, fiction and articles on the workings of the writing business from agents, authors and editors. When putting the issue together there seemed only one natural fit in terms of a potential guest editor, as we needed someone who could find the connections between the bestselling and yet-unpublished; the perspectives of the in-house editor and the independent agent; the bookseller and the small press. That person was, of course, Rebecca Swift, director of TLC, an agency whose entire existence is built on the bridges between these various interconnected aspects of the publishing business.
Now, it's good to be able to return the favour, as editor of Staple Magazine, and take the opportunity of reading a batch of new writing from authors who have worked with TLC in recent years, and put together this second online showcase for their varied talents, designed to follow the twelve authors featured in last year's impressive roster (all still accessible on the TC Showcase page). Too often, the carousel of prizes and marketing in current publishing seems to eclipse the quieter or less obviously commercial voice, so it's good to be continue our involvement in a slot that has, already, seen one showcase author – Jude Cook – taken on by an agent, who quickly sold his debut novel, and given many others a platform to remind us of books already published or present work in progress.
As those of us with access to unpublished as well as published material over a long period of time know, it isn't necessarily the case that the best writing sells. Sometimes it does, but every agent has an author or two on their lists whose quality is (so far) unappreciated by the market, just as we've all read remaindered and second-hand novels that sank without trace, but in the act of reading turn out to comprehensively trounce most of the Booker shortlist in any given year. Any publisher including work by a bafflingly unacknowledged poet in their magazine pages, or TLC reader kept up all night by a gripping thriller that then curiously fails to find a buyer will be all too aware that random factors, like luck and timing, count almost as much as quality in the building of an author's profile.
Yet good books will always, eventually, find their place and readership, and the mega-successes can have a tendency to vanish without trace in later generations. Commercial blockbusters may not last the course. Meanwhile off-the-radar efforts keep finding new readers, passing from hand to hand, and eventually move from cult to canonical status. It's a process that can take decades or even centuries, but it happens, and writing is – like most things in the arts – a long game.
Still, it would require superhuman conviction not to feel dispirited by the present difficulties faced by new writers, and just because the final verdict may not be decided until (say) 2094, that doesn't mean we can't ensure the work circulates, and gets a chance of finding its readers more quickly. We all know that literature involves large questions of taste, but it is our job at Staple – just as it is TLC's job – to try to assess quality or potential, commercial or otherwise, on a day-to-day basis. The publishing industry is also changing, and TLC wants to hold a steady eye on talent, across all genres, and keep the conversation going about what literary quality is, how it affects us, in a world in which anybody with a computer can upload their writing online and call it 'published'. Does a superb poem or wonderful short story posted on a website that no-one knows about truly exist before its readers find it?
With all that said, online publishing  is a powerful, relatively new tool in the writer's armoury, with the potential to expand readerships on a scale unseen since the invention of the mass-market paperback. In order to maximise the visibility of the writers we're including in this second showcase we have decided to continue last year's format, highlighting one writer every month, so that each has his or her turn in the spotlight. Meanwhile, we will be archiving all the material seen in previous showcases, and we hope readers will enjoy the work of the twelve authors we'll be featuring during 2012 as much as your feedback suggests our initial selection were appreciated during 2011.
If you are interested in finding out more about Staple Magazine, see www.staplemagazine.co.uk. You can also buy copies of The Publishing Issue of Staple magazine, ed. 69/70, edited by Wayne Burrows in association with TLC.
Showcase Editor – Wayne Burrows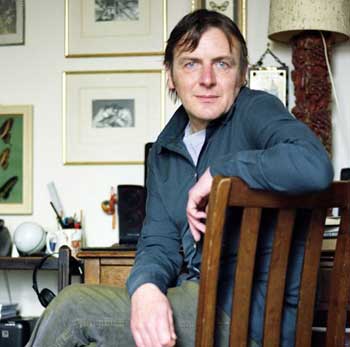 Photo: Oliver Dalby.

Wayne Burrows' first collection of poetry Marginalia appeared from Peterloo Poets in 2001, and his latest, Emblems (Shoestring Press) was published last year. His work has featured in the British Council's New Writing anthologies, the Forward anthology and many mainstream and small press magazines. He has written widely on the visual arts, performance and music for newspapers, websites and magazines like Metro, Creative Times, Nottingham Visual Arts and The Big Issue in the North, and took over the editorship of Staple Magazine in late 2007. Burrows recently collaborated with the artist Neville Gabie on a project based in Sneinton Square, and delivered a series of workshops at Nottingham Contemporary which examined how artists use writing within their practice and writers use art as a inspiration in their work. He has also performed 'The Enigma of Robert Holcombe' at Hatch, and 'Disturbances', a short film using found images alongside text, at Annexinema.