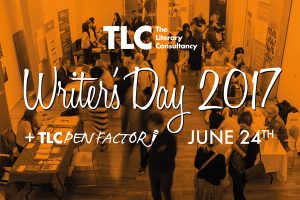 TLC Writers' Day 2017 + TLC Pen Factor Writing Competition
January 30, 2017
Following the sell-out success of Writers' Day 2016, we are very pleased to be able to unveil our lineup for 2017, in a new full-day programme with longer sessions and more speakers. Writers' Day will be held in the Main Hall here at Free Word Centre, in London. The box office will open for general sale in February.
TLC Writers' Day Programme Saturday 24th June 2017
Registration 10am
Introduction by TLC Manager Aki Schilz 10.30am-10.45am
'Mapping the Novel' with acclaimed novelist Jacob Ross (author of Pynter Bender and The Bone Readers) 10.45am-11.45am
'An Editor's Perspective' with Editorial Director at Granta Books, Max Porter (Young Writer of the Year 2016, Grief is the Thing with Feathers, also shortlisted for the Goldsmith Prize and Guardian First Book Award) 11.45am-12.45pm
Lunch
Special guest reading, bestselling novelist Giles Kristian 1.30pm-1.40pm
TLC Pen Factor live pitches with judges Emma Paterson (Rogers, Coleridge & White), Angelique Tran Van Sang (Bloomsbury), Crystal Mahey-Morgan (OWN!IT) and Ed Wilson (Johnson & Alcock) 1.45pm-2.30pm
Break
'Finding Markets' with Julia Kingsford (KingsfordCampbell), Stefan Tobler (And Other Stories) and Jonathan White (Matador) 2.40pm-3.40pm
Networking and book signing opportunity 3.40pm-4pm
End 4pm

For those of you who are writers, we will be running our TLC Pen Factor Writing Competition again this year and we're delighted to invite you to take part. The competition is open to all ticket-holders of TLC Writers' Day 2017, with a submission deadline of 12pm (midday) Monday June 5th. Full details will be issued once you have purchased your ticket. The competition is for fiction (adult/YA) or memoir writing that has not previously been published by a commercial (advance-paying) publisher. Unfortunately we cannot accept children's fiction, short stories, scripts or poetry for this competition.
This year's competition will see a shortlist of five finalists given the opportunity to pitch their work to a panel of literary agents and publishers on the day. We are very pleased to welcome as our 2017 judges literary agent Emma Paterson (Rogers, Coleridge & White), Editor Angelique Tran (Bloomsbury UK), Director of OWN!IT Crystal Mahey-Morgan, and literary agent Ed Wilson (Johnson & Alcock). A team of readers will pre-select a longlist and a shortlist from all entries, and shortlisted writers will be informed with enough time to prepare their pitches.
Further announcements will be made about 2017 TLC Pen Factor submissions procedure and the 2017 prize package soon.
"Imagine pitching your work to a panel of some of the most respected agents and publishers! I survived however, and the happy result of TLC's Pen Factor is I'm now signed up with one of those agents… It's a great experience for all in the publishing industry!"

Fawzia Kane, TLC Pen Factor runner-up 2012, longlisted for the 2012 OCM Bocas Prize for Caribbean Literature with her collection Tantie Diablesse