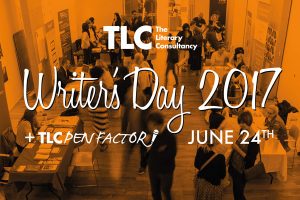 TLC Pen Factor Writing Competition 2017 Prizes Announced
March 24, 2017
We are delighted to announce that, due to the generous support of our TLC Pen Factor partners, we are able to offer the following prize package, worth over £1,000, to the winner of the TLC Pen Factor Writing Competition 2017. The Prize has grown in strength since it was launched in 2012, with winners and runners-up going on to be published, and to be long- and shortlisted for a range of prizes including the Costa First Novel, the OCM Bocas Prize for Caribbean Literature, and selected as WH Smith Fresh Talent picks.
We believe this prize package represents something beyond a cash contribution, combining high level support from some of the most exciting literature organisations in the UK who have a real understanding of the needs of the modern writer: the need to find space and time to write and the opportunity to get professional feedback; the chance to have a better and more practical sense of how the process works to get a book from final edit to print in a time when writers have more responsibility to be involved in these processes; and what the onward process looks like too, to support marketing processes no matter which route into publication you might eventually choose, and to think cleverly about reaching readerships effectively, as well as providing access to fellow writers and important resources.
We think this prize package offers something quite special, and we very much look forward to hearing the pitches from all five finalists at Writers' Day, and working with the winner in 2017 and beyond. Our thanks to our partners, and to our 2017 live-pitch judges Emma Paterson (Rogers, Coleridge & White), Angelique Tran Van Sang (Bloomsbury), Crystal Mahey-Morgan (OWN IT!) and Ed Wilson (Johnson & Alcock).

Spread the Word 
1-year London Writers' Network membership. Benefits include discounts on workshops, events and masterclasses and networking events.
RRP £25
Urban Writers' Retreat 
One-day weekend retreat in London, in a bright studio space with fellow writers. No distractions, and time to focus. Lunch provided.
RRP £45
BookMachine
One-year Promoted Membership including free entry to events, publishing updates, discounts on services from partners, free entry to London Book Fair 2018 and many more benefits.
RRP £90
CreateThinkDo
Marketing mentoring for writers, to help you think about your 'brand' as a writer, your creative vision, and how to approach marketing your book. 2x 2-hour sessions
RRP £250
Head & Heart
1.5 hour consultation to take you through the practicalities of book production, design and printing processes with publishing expert Lucy Llewellyn.
RRP £112.50 (£75/hour)
Poetry Translation Centre 
6-workshop season ticket pass. Discover poets from around the world and think in fresh ways about language and how we use it to tell stories. Each workshop attended earns you points towards free PTC chapbooks and poetry collections.
RRP £35
Penned in the Margins
A book bag from this award-winning publisher including Count from Zero to One Hundred, Marginalia, The Good Dark, Forgive the Language and Saboteur Award-winning novella The Lost Art of Sinking
RRP £54
National Book Token
RRP £50
Plus one year's editorial support from TLC, including a full manuscript assessment (ave. value £500), a one-month digital showcase platform for the work, and an invitation to an in-house day at our base, Free Word, with a literary agent and publisher.


The TLC Pen Factor Writing Competition is open exclusively to Writers' Day ticket-holders, and is for submission of previously unpublished works of fiction/non-fiction.